It's like Hollywood knows that we all need to be entertained amidst quarantine. On Sunday, Kristin Cavallari announced her divorce from Jay Cutler that is kind of expected, but also unexpected at the same time. I thought that were pretty much set for the next two weeks, as far as celebrity news goes. But now, it's like Christmas, because TMZ is reporting that Gigi Hadid is pregnant, expecting a baby with Zayn Malik.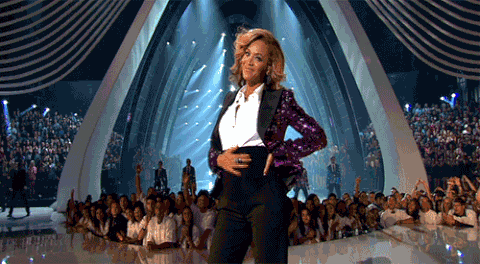 TMZ broke the exclusive – as always – that Gigi is pregnant, claiming "family sources for the couple tell us… Gigi is 20 weeks along." For those of us who are bad at math (no shame), that's 5 months. I know that this is just one report from TMZ, but they're like the CNN of the entertainment world. They broke the news with Khloe Kardashian's pregnancy, Kylie's pregnancy, Kobe's plane crash, AND Kim Jong Un's death… so I feel like when it comes to high-profile celebrity news, they can be trusted. ALSO, TMZ was the first to report when Gigi and Zayn broke up the first time in 2018 so I think they know what they're talking about.
Legit 2 days ago (April 26th), Gigi posted photos from her 25thbirthday celebration, featuring those giant number balloons that every famous person on Instagram is obligated to pose with. Gigi's real birthday is April 23rd, so even though these photos were posted three days later, she does not look even remotely pregnant… let alone 20 weeks along. Like, she doesn't even look like she's preggers with a food baby. But also, Gigi Hadid would be one of those women who remains tiny throughout a pregnancy. Lucky bitch.
https://www.instagram.com/p/B_bK5-cH6I5/?utm_source=ig_web_copy_link
Honestly, I don't have the energy in the middle of a global pandemic to be negative so I wish Gigi and Zayn all the best, and would like to congratulate them for having the most beautiful fetus that's probably ever existed.