Skincare: it is so damn hard. It can also take up tons of time in your day! The Korean beauty industry swears by a ten-step skincare routine (which can take upwards of 30 minutes). I'm here to test it out, see the benefits and if it's worth it to spend so much time, energy, effort, and cash on your skincare. Everyone's skin is so different, the thing I love about this challenge is how the products are all customizable to you, you can focus on clarifying, brightening, moisturizing, or really anything that your skin needs. Skin can change based on hormones, eating habits, drinking habits, and more. Basically, there are four different (very broad) skin types, normal, dry, oily, and combination. I fall under combination which means that my pores on my t-zone can be an issue, I have minor random breakouts, I get oily on my t-zone but can get rough dry patches in other places – basically, my skin is all over the place! This routine is great because when my skin is oily I can focus on that, but when my skin is dry I can also focus on that!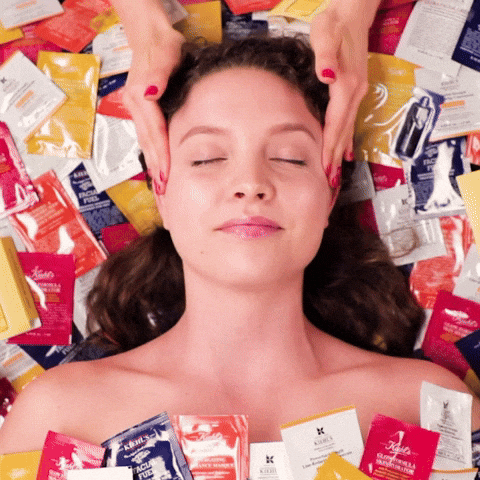 My interest in Korean skincare sprouted from when I was searching the internet to find some cool sheet masks (I will write an article to review the 10 different masks I ordered once they arrive). I stumbled upon Soko Glam, a Korean skincare site which makes Korean skincare accessible to people around the world! Sephora does have some k-beauty brands – but definitely not the whole roster which is what makes Soko so amazing.
While stalking the website I stumbled upon something amazing, the 10-step Korean skincare routine. This got me super intrigued, I realized that I was missing MANY steps in my skincare and that I could be doing so much more for my skin! I did not know how much of a lengthy process this would be though. Almost immediately when I was late to my fave workout class (they didn't let me in and I got sad/stressed) I ran to Sephora to pick up some all new products to incorporate in my new ten step routine. I had a rough day at work and needed some retail therapy, don't judge me! I grabbed everything I was missing to complete this routine and am challenging myself to try out this routine for 7 days straight. I will see how I feel (skin wise and otherwise) and I will let you know if this is something I'm going to stick with or not at the end, and if it's worth it to try this challenge out for yourself!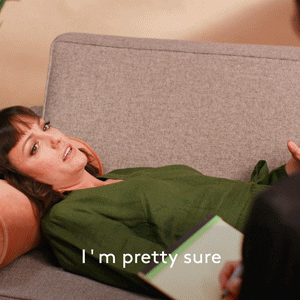 I did my research, read this article from Soko Glam, spoke with a Sephora rep. at the store and told her about what I would be doing, and came to the conclusion that I needed a toner, essence, some new moisturizer, sheet masks (which I ordered on Soko), and I needed to figure out my cleansing situation. Now I will take you through my routine, and give you a little weekly progress report.
1. Makeup Remover/Oil Cleanser
There is a reason this has 120k loves on Sephora, the Green Clean Makeup Removing Cleansing Balm by Farmacy is super amazing. I am the type of girl who usually sticks with a makeup wipe from Neutrogena and MAYBE a cleanser or cleansing mask if I'm feeling it (usually not in the morning, and usually not when I'm too tired at night, so I would say about two nights a week – otherwise I just use the wipe – I know, I'm so bad). The cleansing situation is probably the biggest change to my routine but I am loving it. This cleansing balm is so nice and feels so luxurious on the skin but is also super powerful at scrubbing all my makeup away! I had waterproof mascara on and this did the trick almost instantly. It left my skin feeling refreshed and awesome, it smells great too.
2. Water Based Cleanser
Here I actually use a Korean skincare brand! I have been using Glow Recipe's Blueberry Bounce Gentle Cleanser for a while now – and I am truly here for it. It normally sits in my shower waiting for me to wash my face in there – but now it's getting used more often so it's made its way to my vanity! Mazel Tov cleanser, I'm so proud of you.
3. Exfoliate
For exfoliating I'm gonna alternate between an exfoliating mask (Summer Fridays Overtime Mask) which I have been obsessed with for some time now, and these NuFace exfoliating and cleansing wipes. I think I will use the mask every other night, and the wipes every morning and on the nights when I don't use the mask. The mask smells so good and really leaves skin super exfoliated but also super-nourished, smooth, and soft. The wipes are so amazing because I love how when I use them I can actually see the leftover makeup that I'm picking from on my skin (that would have been left behind if I missed this step so thanks K-beauty routine). The wipes also have a really nice light exfoliation as they just have these tiny little bumps on one side of the wipe, it feels really nice on the skin.
4. Toner
One of the new products I'm incorporating is the Ren Ready Steady Glow AHA Tonic, I just got this at Sephora and have been loving it. It smells super fruity and refreshing, but I can tell it's really getting into my skin with some chemical exfoliation and some PH balancing. I finished my Glossier Solution and moved on to this – unfortunately, this took the cake and beat out my love and devotion for all things Glossier. I still love Glossier and I am incorporating one of their products in the line-up, but for toner, this stuff really gets the dirty shit out of your skin and leaves you with the perfect base for the rest of your skincare. Even after my 3 cleansing steps, I find that there is still some makeup/dirt residue picked up by this toner.
5. Essence
I had just recently purchased the Tatcha essence and have become obsessed. The effect it had on my skin within – I kid you not – days is outstanding. I now cannot go without this in my skincare routine, it keeps my skin plump, smooth, and super hydrated but also I've noticed that I get less oily throughout the day when I use this! You don't put it on with a cotton pad (i thought that was how you did it and I wasted a ton of money on the SKII essence by using it this way and it did nothing for me).
6. Treatment/Serum
The good thing about treatments and serums is that you can mix them, layer them, and use this step to really personalize your skincare routine to exactly what your skin needs that day. The ones that I'll probably focus mostly on during this little k-beauty challenge are the Sunday Riley Good Genes, the Glow Recipe Pineapple C Brightening Serum, the Youth to the People Superberry Hydrate and Glow Oil, and the First Aid Beauty Ultra Repair Oat & Cannabis Sativa Seed Oil. I've been using all these before and find they really work and do exactly what they claim to do! This way I can mix and match and say if I want to clear up my skin but not dry it out I can mix Good Genes with the Ultra Repair Cannabis Oil.
7. Sheet Mask
So as I mentioned, I ordered a bunch of Korean sheet masks online, still waiting for those to come so in the meantime I have been using what I have stashed away at home. I have a few of the Farmacy Hydrating & Brightening masks, as well as the Glow Recipe Watermelon Glow Jelly Sheet Mask, and the Saturday Skin Cotton Cloud Probiotic Power Mask. These all are pretty good for me, I love the jelly masks more than the cotton ones because I find they absorb into the skin more and leave my skin feeling bouncy and plump!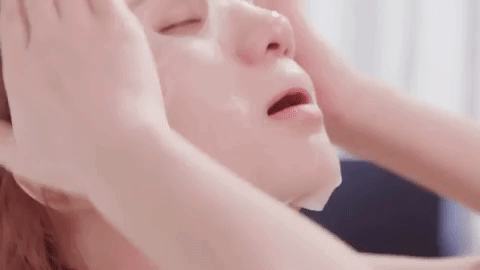 8. Eye Cream
So here we go Glossier, your time to shine. I picked up the Glossier bubble wrap (made my mom and sis walk back to the Glossier flagship in the pouring rain to get this after I forgot it because I'm annoying AF and I love Glossier) on a recent trip to New York and have ever since been obsessed. It's bouncy and super hydrating so good job Glossier! This step is so soothing, and sometimes I'll use a jade roller to de-puff my eyes even more.
9. Moisturizer
I have been loving the Protini moisturizer from Drunk Elephant recently, it is so fresh and dewy, super moisturizing, and I also find it evens my skin tone out a little bit as well. All around amazing. I also think it clears up some acne or at least makes acne less frequent on my face! When I reach this step in the routine I am so happy because I'm replenishing the moisture, but also it means that my routine is coming to an end!
10. SPF
This is the only thing in my routine that differs from morning to night, I don't put any SPF on at night. When I use SPF in the morning I am obsessed with the Supergoop City Serum because it's a sunscreen but also has some amazing nutrients for your skin in it as well. I always find sunscreen to feel weird on my face and pill up under makeup, but this one sinks in right away and is amazing! I haven't gotten sunburnt since using this so I would give it a 10/10 rating.
Now onto the routine, let's see how this goes…
DAY #1
I was honestly really excited to start this little challenge out, I love skincare and was really excited to extend my routine. The one thing I realized on day one was exactly how long a ten-step skincare routine takes (and it's pretty damn long). For most steps of the routine, I like to wait a few minutes in between to let the skincare really sink in, but once you add two minutes between each step you're already at a twenty-minute routine! In between steps I'll brush my teeth, brush and/or style my hair, and maybe watch a little bit of Game of Thrones.
After doing the routine both in the morning and at night I can honestly tell you that my skin has never felt better. I love how clean my skin feels, but it also is SO nourished because of all the time and products being lathered on. The time thing may take some getting used to, but as of right now it is so worth it.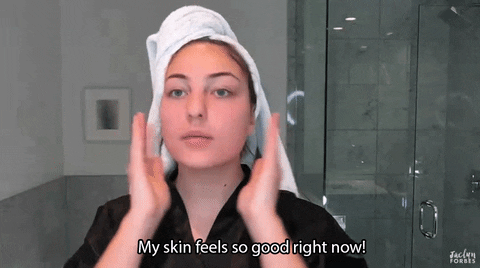 DAY #3
Okay – so I started this whole routine out on the weekend, but now it's the week, and I have work (I have to be at the office at 7:30 am some days). I am NOT a morning person, so waking up an extra thirty minutes early just for skincare is really pushing it for me. I had to rush through my routine this morning and not take breaks between each step. The routine did not feel as nourishing mentally or physically but at least I got it done! My skin is radiant though, even my mom noticed! So that's a plus.
I have to say though, taking thirty minutes of my night to do skincare is probably the most relaxing part of my day! Self-care is so important and I really feel like when I take the time to do this ten-step skincare routine it nourishes my 'self' and allows me to take a minute to reflect on my day! I LOVE the nighttime part, but the morning routine is tiring.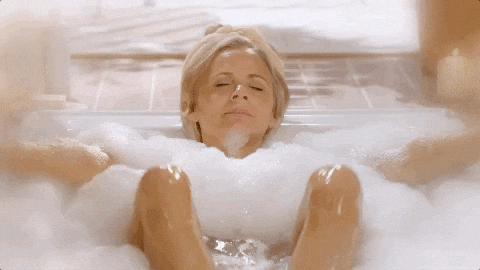 DAY #5
My skin has never been like this! I've always had decent skin, minimal breakouts, I get oily by the end of the day, sometimes have some dry spots in the winter, but otherwise, I've never been very upset with my skin. This routine though is adding things to my skin that I didn't realize I was missing! I never noticed how textured my skin was on my forehead and chin until I realized that the texture was almost gone! My pores have never been so discreet, and the elasticity of my skin is so amazing! Makeup goes on like it never has before, but I've really been able to keep my makeup minimal because my skin is so radiant on its own!
I've gotten over my early morning grudge because the results are to die for! I'm also trying to incorporate more self-care into my routine if I'm going to be set out so much time for this skincare routine I may as well get some other benefits too! I have added in jade rolling consistently between step 6 and 7, I do deep breathing exercises while letting my good genes treatment dry on my face, and I've also incorporated some self talk into the routine and try to say 3 things I like about myself while cleansing, and then while my sheet mask is on in the morning I'll say 3 things that I'm looking forward to for my day and at night I'll say 3 things I'm grateful for from my day. I also use essential oil with my diffuser and keep this on in the bathroom while I complete my routine.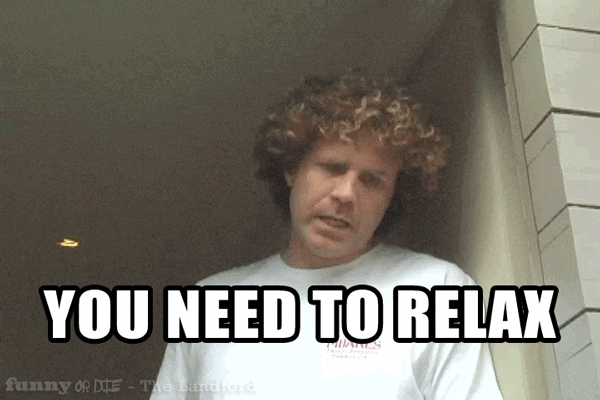 DAY #7
So today is my last day of the challenge, but I've decided that I am most definitely going to extend it. Once I got over the early morning hump I realized how important it is to take time when I wake up and before I go to bed for myself. Doing skincare is great because it gives you a break from your phone and lets you look in the mirror and focus on the good! I've found that my routine is not only amazing for my skin, but the results in my mental health, stress, and confidence are stellar as well. Even if you don't have the time to do the full ten step routine, try to set out a morning and night routine for yourself, and include some self-care aspects into your skincare routine. Consistency is key, and your skin and mind will for sure see benefits!